Welcome to the Spotted Dog
My name is Kerstin Zeuge, I am based i Stockholm, Sweden, and I have been working professionally with dog training since 2000. I am also a canine physiotherapist. I speak Swedish, German and English.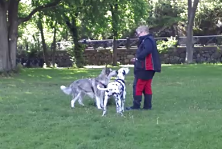 I provide classes, 1-2-1's and behaviour consultations. I am a member of Sveriges Hundföretagare (Organization of Swedish Dog Professionals).
Since March 2018 I am a Certified ProDogTrainer by absoluteDogs (UK).
All my dog classes are held in Swedish. Taking a class with your four-legged friend can be challenging when not speaking the language but if you understand Swedish and just can't speak it is fine to participate in classes. 1-2-1's and behaviour consultations can be held completely in English.
All dogs and owners are welcome. You may have a small struggle you need help with or a deeper struggle that requires a training programme. If you don't understand Swedish well enough for class or if your schedule doesn't allow for weekly classes 1-2-1 training is an option. What you want to train is up to you! There is a solution to every struggle. Sometimes it is quick and smooth, sometimes it requires time and a training programme – whatever your struggle is, the training will make a difference. You can come to outdoor training in Hornstull/Stockholm or I can come to you for indoor or outdoor training.
All training is reward-based and mostly we play games that shape the personality in a fun and effective way! For behaviour struggles I start in a low-pressure environment for foundations without having to put the dog in situations it isn't ready for. Working in a city environment often puts triggers and challenges much too close too quickly and a overwhelmed dog isn't really learning anything. Training in your own home and still see results outdoors will strengthen you and make real learning happening.
To make an appointment for a consult or book training sessions please click here or send an email to kerstin @ prickigahunden.se!
The company has a liability insurance and is registered for taxes.
The Swedish Consumer laws applies to cancellation rules.
In all training situations strict dog owner liability applies according to Swedish law.